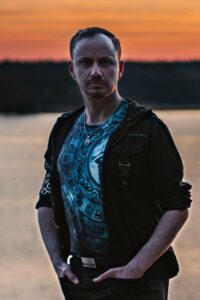 LUCA DELLE FAVE (GUITARS)
With Italian and Finnish roots, I was raised in Stockholm, Sweden.
Even though living in a country where metal is pretty popular, I was
never exposed to metal until my later teenage years. However I had
a big passion for music right from the start and singing was something
I really enjoyed to do. Otherwise music was my ultimate escape to the
realms of dreams where I could design anything.
During my childhood I listened a whole lot to instrumental music of which
one favourite artist of mine was Jean Michel Jarre. That kind of music along
with many movie scores really made me drift off to these fantasy lands I loved to be in.
I purchased a guitar with the intention of combining it with singing. But after getting exposed to progressive metal during senior high school, my interest on guitar playing increased a lot and quickly became the bigger passion. What really spoke to me about progressive rock/metal was the strong atmospheric vibe I got from bands such as 'Dream Theater'. Also the musical freedom of the genre, the variety and the breaking of the rules introduced me to music in a completly new way. It was a new realm where so much more was possible and it was very appealing to me. It didn't take long until I had finally figured out the kind of music I dreamt of doing.
CURRENT GEAR:
Music Man John Petrucci BFR 6
Schecter Jeff Loomis JL-7 FR
Axe-Fx II XL (Fractal Audio Systems)
---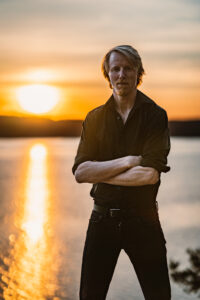 RIKARD WALLSTRÖM (BASS)
Born and raised in the north-west suburbs of Stockholm. I did have a lot of contact with music. A talented brother who made inspirational music and aspiring clarinet-player, was the centre of my music interest. For every CD he brought home, I always tried to sneak over and give it a listen whenever I could and he always had a music-project working on with new songs to show off. My brother shaped my music interest to what it is today.
Of all the CDs I stole from my bigger brother, bands such as Dream Theater, Liquid Tension Experiment and Opeth stood out as I was enthralled with the musical depth it provided compared to anything I've heard before. Not long after that I was dying to get back into instruments. John Myung, Michael LePond and Tony Levin stood out for me a lot when I listened to my favourite music. The support that the bass provided while still standing out as being in the centre of the music was in a way I had never heard before. I wanted to play just like them.
I finally met Luca when we started in the same class. We shortly started our first band together as I rushed to the other side of the city to pick up a shitty bass guitar kit and the rest is history.
CURRENT GEAR:
Woodo B6 Black Walnut
Yamaha trbx505
Marshall MB450H
Darkglass Hyper Luminal
Darkglass B7k

---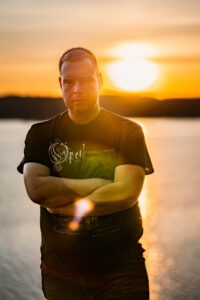 MARCUS THORÉN (DRUMS)
I was born in Stockholm, Sweden and I was raised by two parents who listened to rock mainly. I'm probably quite accurate if I say that the very first song I ever heard when I was little, of what I both can and cannot remember, was a 'Dream Theater' song. Now, progressive rock and metal music isn't considered something easy to listen to. Maybe that's why I've always felt that it's a part of me and that I could enjoy it at an early age.
Of course I went my own path as a youngster, where I listened to a lot of 'Michael Jackson' for an instance. That surely put a mark in my heart, just like how 'Dream Theater' did. These two influences characterized my aim in music quite heavily, along with a wide mixture of other elements. However these are worth mentioning as they were part of my childhood. In later years up to today I have this large spectrum of different genres I initially listen to daily, that ranges from the lamest pop you can ever find, to some of the rawest metal subgenres, to atmospheric and ambient soundscapes, to things that would never in a million years fit mainstream radio.
My family have inspired me from different aspects in music. My mother have been an active listener of all-around rock and metal music, including some of the bands that I will cherish forever within progressive music. Both my dad and my uncle have been playing drums and still pretty much do. I remember that every time I'd visit my grandmother's house, my uncle would at some point go downstairs to the basement to play his enormous drumkit. Personally, I didn't have any intentions or interests to play drums myself until I became a teenager. My uncle however is probably one of the main reasons I ever wanted to play the drums after all, since he unconsciously inspired me by his drumming.
CURRENT GEAR:
TAMA Superstar Hyperdrive with Gibraltar Modular Frame:
(Toms/Floor toms: 8″, 10″, 12″, 14″ 16″, 18″) (Kick drums: 2x 22″) (Snares: 13″, 11″) (Octobans: 4x 6″)
(Hi-hats: Ziljdian; 13″, 14″) (Crash cymbals: Zildjian; 15″, 16″, 18″ – Wuhan; 16″) (Ride cymbal: Zildjian; 20″)
(Effect cymbals: Zildjian; 14″, 15″) (China cymbals: Zildjian; 18″ – Wuhan; 16″) (Pedals: Pearl Eliminator Demon Drive)
(Splash cymbals: Zildjian; 6″, 8″) (Bells: Ziljdian; 6″ – Meinl; 5″) (Special cymbals: Max Stax, China Splash, Chopper)
(Percussion/Extras: LP; Tambourine, Chimes, Temple Blocks, Cow Bell, 6″ Snare Timbal, home made bell stack)
---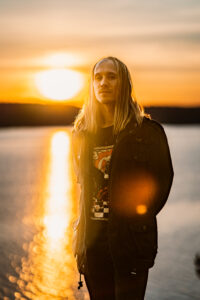 ERIK BAUER (KEYBOARDS)
I'm from Stockholm, Sweden. I have always enjoyed music, for as long as I can remember, but it wasn't until my early teenage years that I really began to develop an interest for music. I started taking lessons for recorder when I was eight years old and switched to piano lessons when I was eleven. I liked playing music but I didn't invest very much time in it until 6th or 7th grade, when I started listening to music more and more. At first it was mostly pop stations on the radio, then the local rock and hardrock station. Later a friend of mine introduced me to the melodic death metal band 'Soilwork' and I was quickly drawn into the world of metal.
At the same time my dad took me and my brother to a 'Roger Waters' concert. That concert is my earliest memories of hearing prog-rock. But it probably wasn't the first, since my dad used to play in a prog-rock band himself and has a lot of prog-rock records by bands like 'Yes', 'Genesis' and so on. I just wasn't aware of it until then. And I was looking through his collection of CD's when I found 'Scenes From a Memory' by 'Dream Theater'. I remember putting it on and getting completely blown away by it! The compositions, the technical prowess of the musicians and the idea of a concept album really changed my view of what music could be, especially in the form of a metal band. Not too long after, I found an ad from a band called 'Seventh Dimension' looking for a keyboard player. So I went and bought a syntheziser, sent in a reply to the ad and now I'm here writing this.
CURRENT GEAR:
Korg Kronos
Novation Ultranova
Roland Juno-Di
Arturia MicroBrute
Tasty chips GR-1

---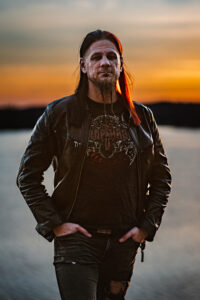 MARKUS TÄLTH (VOCALS)